Timeline of Chelsea's Major Trophies
This is the timeline of Chelsea's Major Trophies
Welcome to the timeline of Chelsea's Major Trophies history past future previous next date day month year
First Division Chelsea were crowned champions of England for the first time in our history at the end of the 1954/55 season, somewhat fittingly 50 years on from the club's formation in 1905. Ted Drake, who had arrived at the club in 1952, led the team to the First Division title ahead of our nearest challengers Wolverhampton Wanderers, who finished four points behind. Roy Bentley scored in a 1-1 draw away at Leicester City on the opening day of the season, before Burnley and Bolton were both beaten at Stamford Bridge. September was a difficult month, with Drake's side losing at home to both Preston North End and Everton, while our fortunes failed to improve throughout October. By November, the title appeared to be little more than a pipedream as we lay in 12th position, but there was a marked improvement in the second half of the campaign, with the goalscoring exploits of both Bentley and John McNichol ensuring our title assault remained firmly on course. Frank Blunstone had proved himself an important acquisition since signing from Crewe Alexandra in 1953, and his guile and creativity on the left wing was a pivotal part of our success, while Stan Wicks, who had played under Drake at Reading, was solid and dependable at the back. Twelve goals in three matches just before Christmas, against Portsmouth, Wolves and Aston Villa set the tone for what was to come, and a 5-2 win against Bolton on New Year's Day reaffirmed the belief in the camp. Important victories against the likes of Newcastle, West Bromwich Albion and Sunderland followed, before McNichol scored twice in an eventful 4-2 win against Tottenham at Stamford Bridge. The pivotal fixture came on 9 April when Wolves were the visitors to west London. A crowd of 75,000 packed into the stadium for what was a virtual title decider, and it took a Peter Sillett penalty to secure all three points for the Blues, ensuring we were in touching distance of the championship. There were some worrying moments before the vital spot-kick was awarded however. Everyone in the ground it seemed except the referee had seen England captain and Wolves centre-half Billy Wright punch a goal-bound Seamus O'Connell shot over the bar. But after the man in black had been persuaded to consult with his linesman, he punished the offence. A 0-0 draw away at Portsmouth in our following fixture meant that all we required was a victory against Sheffield Wednesday at home to be crowned champions. Given our impressive run of form in the build-up to the game the result was never really in doubt, and Chelsea ran out comfortable 3-0 winners thanks to another Sillett penalty and an Eric Parsons brace in front of 51,421. Bentley finished as top scorer with an impressive 21 goals, while McNichol finished the campaign with a total of 14. Parsons eased the burden on the forwards by chipping in with 11 from out wide, while right-back Sillett scored six. Derek Saunders and Eric Parsons were the players to feature in all 42 league games during the title-winning season. Cr.
www.chelseafc.com/the-club/history/style/trophy-cabinet/league-titles/first-division--1954---55.html
Premier League Great things were expected when European champion and self-proclaimed 'Special One' Jose Mourinho was appointed manager following Claudio Ranieri's departure. Things began well with a 1-0 win over fellow title-chasers Manchester United at Stamford Bridge, and by mid-October we were keeping pace with champions Arsenal, unbeaten. A Nicolas Anelka penalty at Manchester City saw us lose for the first and only time but we bounced back with six straight wins, conceding just twice in the process to move two points clear at the top in late November. New signing Arjen Robben, injured for the opening games, was now making his pacy presence felt. We travelled to Highbury and came from behind twice to earn a point, new captain John Terry and Eidur Gudjohnsen grabbing our goals and a New Year's Day win at Anfield moved us five points clear. Victory at White Hart Lane on a day when Arsenal slipped at Bolton and a narrow win at Blackburn, in which an early Robben goal and a Petr Cech penalty save brought us all three points, gave hope that this could be Chelsea's year. Man City again frustrated us with a goalless draw at the Bridge but by now the gap was nine points to our nearest challengers. Norwich scared the new Carling Cup winners when they equalised at Carrow Road, but late strikes from Mateja Kezman and Ricardo Carvalho calmed the nerves with Man United only drawing at Crystal Palace, and having seen off Barcelona in the Champions League we then beat strugglers West Brom, Crystal Palace and Southampton to move 13 points clear in early April. Nothing was going to stop Mourinho winning Chelsea's first title in 50 years. Draws with Birmingham and Arsenal suggested a stutter, but we travelled to Bolton on April 30 knowing a win would deliver the championship. Two Frank Lampard goals, taking him into folklore and to the 20-goal mark, wrapped it up. Unsung hero Claude Makelele netted the only goal after missing a penalty as we celebrated at the Bridge in the next game against Charlton, and Tiago struck from 35 yards to beat Man United at Old Trafford. Records had been broken by our 95 points and 15 goals conceded. The challenge now would be to repeat the feat in 2006. Cr.
www.chelseafc.com/the-club/history/style/trophy-cabinet/league-titles/premier-league--2004---05.html
Premier League Reigning champions, we went into the 2005/06 campaign as overwhelming favourites to retain the title, and in our Centenary year, would not disappoint. Having wrapped up the Community Shield with a 2-1 win against Arsenal, we visited newly-promoted Wigan on the first day of the season, but needed an injury-time Hernan Crespo strike to earn us the three points. We won our first six games without conceding a goal before having to come from behind against Aston Villa thanks to two Frank Lampard goals, a game followed by a 4-1 drubbing of Liverpool at Anfield and a 5-1 demolition of Bolton. Everton were the first team to deny us maximum points, holding us to a 1-1 in late October, by which time we were already nine points clear at the top of the table. Manchester United inflicted our first defeat of the campaign in early November through Darren Fletcher's header but we were quickly back on form with Joe Cole and Crespo on top form. John Terry scored the only goal of the game in consecutive home matches against Middlesbrough and Wigan before Arjen Robben and Cole condemned Arsenal to defeat on our last ever visit to their Highbury home. Consecutive draws against Charlton and Aston Villa could not dent the defence of our crown and by January's end we were a staggering 14 points clear of our rivals. We did suffer a strange 3-0 defeat at Middlesbrough in February, the biggest defeat of Jose Mourinho's first spell in charge, but we bounced back to beat Portsmouth and West Brom. A last-minute William Gallas drive secured a win against Spurs at Stamford Bridge and extended the gap to 18 points, and although Man United had games in hand the championship was in no doubt. An ill-tempered defeat at Fulham and United's improved form kept the race mathematically alive, but having beaten West Ham, Bolton and Everton, we needed to avoid defeat against United at the Bridge to wrap it up. What followed was Chelsea at our best, William Gallas putting us in front early with a close-range header before Cole danced through half the United defence to put us firmly in control, with Riccy Carvalho putting it beyond doubt after a forward rampage ended in him smashing home for a 3-0 win. That was to be our last goal of the season, with two skeleton sides beaten 1-0 against both Blackburn and Newcastle. It meant we finished the season on 91 points, four short of the season before, and only eight clear of second-placed Man U, but the league had been won at a canter. Cr.
www.chelseafc.com/the-club/history/style/trophy-cabinet/league-titles/premier-league--2005---06.html
Premier League Our fourth league championship came after a wait of four years, a short period compared to the 50 it took for our second to arrive in 2005, but no less of a relief after three seasons of Manchester United success. The first game of the campaign gave an early clue of how things would pan out, Didier Drogba opening the scoring before we were pegged back, only for the Ivorian to rescue Carlo Ancelotti's first league game in charge with an injury-time winner from a near-impossible angle. Victory at Sunderland incorporating an unfamiliar 4-4-2 diamond formation followed, and we were still on maximum points after six games, Spurs, the surprise package of the season, despatched 4-0 at Stamford Bridge. Our first defeat came at Wigan, where we were eventually reduced to nine men, and was followed up with another at Aston Villa but we bounced back with five straight wins, including a tight 1-0 against Man United and a 3-0 pummelling of Arsenal on their own ground before another defeat at Manchester City. Going into the New Year, the Blues were well in the race for the title, and smashed Sunderland for seven to prove it. John Terry rose highest to head a late winner at Burnley to leave us top by a point at the end of January. Victory over Arsenal was the highlight of an indifferent February which saw us beaten 4-2 at home by Man City, but we recovered to end March by hammering Portsmouth and Aston Villa with an aggregate score of 12-1. Man United were a point ahead as we prepared to go to Old Trafford, where a Joe Cole flick put us in front only for the hosts to equalise. Substitute Drogba stepped forward though and smashed home a winning goal to put us two points clear, a lead we would not surrender despite defeat at Spurs in mid-April. We ended the campaign in style, winning three out of three. Salomon Kalou snaffled a hat-trick against Stoke in a 7-0 gubbing before sweet, sweet victory at Anfield put the title within reach. The last obstacle was Wigan at the Bridge, and we needn't have worried. Nicolas Anelka put us in front on five minutes, and it was two before half-time thanks to a Frank Lampard penalty - his 27th goal of the season. Kalou and Anelka added more before Drogba chipped in with a hat-trick to claim the Premier League Golden Boot, and Ashley Cole rounded things off to make it 8-0 in injury time. The title had been won in style, with a record 103 goals scored in the 38-game campaign, and a share of the Golden Gloves for Petr Cech, who had kept 17 clean sheets. Cr.
www.chelseafc.com/the-club/history/style/trophy-cabinet/league-titles/premier-league--2009---10.html
UEFA Champions League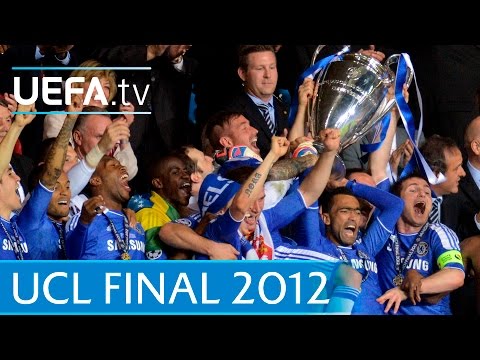 Premier League Chelsea are champions again! Jose Mourinho's men led from the front and deservedly sealed the title with three games to spare after a 1-0 victory over Crystal Palace at Stamford Bridge. The Blues started the season with four straight wins, including dramatic 6-3 and 4-2 wins against Everton and Swansea respectively. A first defeat of the season did not arrive until December, at Newcastle, before which Arsenal, Liverpool and Tottenham had been satisfyingly seen off. Reigning champions Man City reeled us in by the first day of January but the response was emphatic. The next 15 games, up to and including the victory over Palace, yielded 11 wins and four draws, giving the Blues an unassailable 16-point lead. It was a team effort, acknowledged by the fact six players - Branislav Ivanovic, Gary Cahill, John Terry, Nemanja Matic, Eden Hazard and Diego Costa - were voted by their peers into the PFA Team of the Year. Hazard picked up the main prize for the first time after an exhilarating campaign. There were other outstanding performers, including Thibaut Courtois in goal and Cesc Fabregas in midfield, while at left-back Cesar Azpilicueta was as reliable as ever. Willian, Oscar, Loic Remy and the returning Didier Drogba added attacking thrust. The quality of football on display, particularly in the first half of the season, was some of the best ever seen at Stamford Bridge. When dogged performances were required later in the campaign the team showed they were just as capable at producing those, ensuring Mourinho and his men were the worthiest of champions. Cr.
www.chelseafc.com/the-club/history/style/trophy-cabinet/league-titles/premier-league--2014-15.html
Premier League Chelsea were crowned Premier League champions as Michy Batshuayi's late goal gave them the victory they required to secure the title at West Brom. It looked as though Antonio Conte's side might be forced to delay their celebrations as they were frustrated for long periods by the resilience and organisation of their hosts. But the mood changed and the title was won with eight minutes left as substitute Batshuayi, who had previously endured a season of struggle after his £33m move from Marseille, ended a scrappy passage of play by steering a finish high past Ben Foster. The final whistle sparked wild celebrations among Chelsea's fans, and manager Conte was tossed high into the air by his squad. Chelsea still have two games to play in their title-winning season. They host Watford on Monday (20:00 BST) before receiving the trophy in their final game against relegated Sunderland at Stamford Bridge on Sunday, 21 May (15:00 BST). They then have the FA Cup final on 27 May. Cr.
www.bbc.com/sport/football/39813798
UEFA Champions League The 2020–21 UEFA Champions League was the 66th season of Europe's premier club football tournament organised by UEFA, and the 29th season since it was renamed from the European Champion Clubs' Cup to the UEFA Champions League. Chelsea defeated Manchester City 1–0 in the final, which was played at the Estádio do Dragão in Porto, Portugal. The Atatürk Olympic Stadium in Istanbul, Turkey, was originally appointed to host the 2020 UEFA Champions League Final, but it was moved due to the COVID-19 pandemic in Europe to the Estádio da Luz in Lisbon. Istanbul was again appointed to host the final of the 2021 edition, but was eventually moved to Estádio do Dragão after Turkey was placed on the United Kingdom's red list for tourists and hosting it in England was ruled out. Bayern Munich were the defending champions, but were eliminated in the quarter-finals by Paris Saint-Germain, whom they had beaten in the previous year's final. As the winners of the 2020–21 UEFA Champions League, Chelsea played against Villarreal, the winners of the 2020–21 UEFA Europa League, in the 2021 UEFA Super Cup. They were also the European entry for the 2021 FIFA Club World Cup. Since they had already qualified to the 2021–22 UEFA Champions League group stage through their league performance, the berth originally reserved for the Champions League title holders has been transferred to the Champions of the 2020–21 Süper Lig, Beşiktaş, the 11th ranked association according to the next season access-list. The 2020–21 season was the last season of UEFA European club competitions to feature the away goals rule. Cr. Wikipedia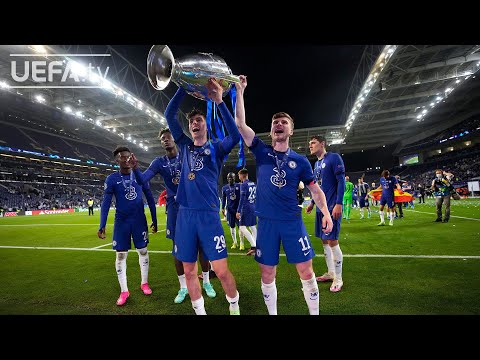 UEFA Super Cup The 2021 UEFA Super Cup was the 46th edition of the UEFA Super Cup, an annual football match organised by UEFA and contested by the winners of the two main European club competitions, the UEFA Champions League and the UEFA Europa League. The match featured English club Chelsea, the winners of the 2020–21 UEFA Champions League, and Spanish club Villarreal, the winners of the 2020–21 UEFA Europa League. It was played at Windsor Park, Belfast, Northern Ireland, on 11 August 2021. Chelsea won the match 6–5 on penalties following a 1–1 draw after extra time for their second UEFA Super Cup title. Cr. Wikipedia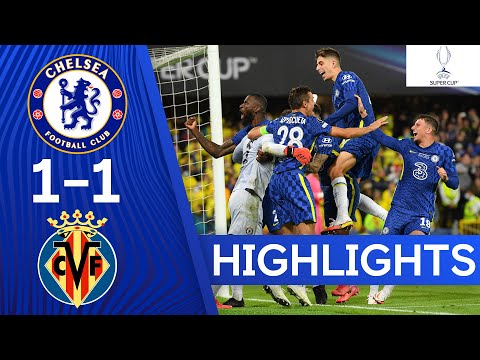 FIFA Club World Cup The 2021 FIFA Club World Cup (officially known as the FIFA Club World Cup UAE 2021 presented by Alibaba Cloud for sponsorship reasons) was the 18th edition of the FIFA Club World Cup, a FIFA-organised international club football tournament between the winners of the six continental confederations, as well as the host nation's league champions. The tournament was held from 3 to 12 February 2022 in the United Arab Emirates. Bayern Munich were the defending champions, but could not defend their title after being eliminated in the 2020–21 UEFA Champions League quarter-finals. Chelsea won the final 2–1 after extra time against Palmeiras for their first FIFA Club World Cup title. Cr. Wikipedia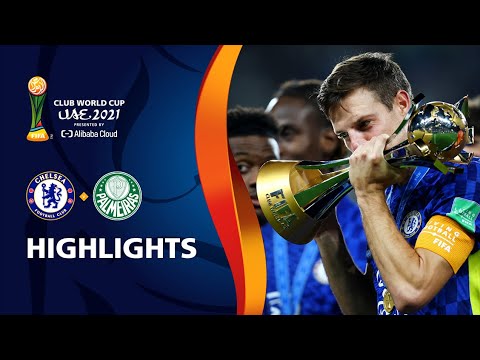 other interesting timelines
Jack the Ripper
Adele - Discography
Donald Trump on media
Man Utd's Managers
Timeline
Chronology
History